My last post covered my experiences with my first project car, a 1987 Honda Accord. At that end of that post I mentioned that I purchased a NB Miata to replace it. Today marks six months since purchasing my Miata so I thought I'd start a series covering my experiences owning it.
This is an introductory post where I cover what a Miata is, why I chose it, the original condition, and how I prepared the car for what was to come. I have several other posts that I'll be publishing in the near future covering the first six months of ownership.
Mazda Miata overview
In 1989 Mazda released the first generation Mazda Miata, often called the NA Miata. It was Mazda's attempt to make a modern successor to old British and Italian roadsters, like the Lotus Elan. They wanted something that was small, lightweight, simple, reliable, fun, and affordable. It ended up being an extremely successful idea, allowing the Miata model to continue being sold today.
NA Miata
Over the years the NA Miata was slowly improved. Things like improved rigidity, safety, and a larger displacement engine were just a few of the things that changed between releasing in 1989 and ending production in 1997. When the NB Miata was announced towards the end of 1997 it was essentially a revised NA Miata. It featured revised styling (most notably the pop-up headlights were replaced with fixed headlights), improved rigidity, a higher performance engine, and a revised interior.
NB Miata (along with the NC and ND)
Mazda began selling the NB Miata for the 1999 model year (or maybe 1998). Just like with the NA Miata Mazda continued to revise and improve the NB Miata over the years. My 2000 model year car is the first revision of the NB Miata, or NB1, which was model years 1999-2000. For the 2001 model year the NB2 was released, with a slightly revised look, improved interior, and higher performance engine with variable valve timing being notable changes.
Mazda continued to improve the NB Miata from year to year with things like improved rigidity, and bigger wheels and brakes. The final model year for the NB Miata was 2005. During the last two model years of production there was a Mazdaspeed MX-5 Miata available with a factory turbocharged motor.
After the NB Miata came the NC Miata in 2006, followed by the ND Miata in 2016, which is the current generation. Each generation continues the same overall design philosophy of the NA Miata and continues to be successful.
Why I chose a Miata
I saw the price of used cars in general, but especially older sports cars, increase significantly throughout 2020 and early 2021. While I do expect the price of regular used cars to go back down to normal levels eventually, there is no saying how long that will take, and if these old used sports cars even will go back down in price (the prices of old used sports cars were generally increasing even before the price surge). I decided I wanted a cool car sooner rather than later. I wanted a car I could use throughout the warm weather part of 2021. My budget was round $5,000 which wasn't huge, but there are still tons of cool cars in that price range.
My requirements
The three main requirements were:
Rear wheel drive
Manual transmission
Common enough that there is used parts availability, and an aftermarket community.
Rear wheel drive
The rear wheel drive aspect ruled out a lot of candidates. Things like old Honda Civics, Preludes, and Integras (front-wheel drive). As well as things like the Subaru WRX (all wheel drive). Besides, those cars were less sports car and more fun daily driver type vehicles. In salty Nebraska vehicles like that tend to get pretty rusty.
Manual transmission
Requiring a manual transmission didn't really rule out any cars in particular.  It mostly just ruled out examples of some cars. For example there are a surprising number of C4 Corvettes in pretty decent shape available around $5,000, but finding a manual transmission car, especially at that price point, is difficult. I also found automatic transmissions to be common sights in most Mustangs and BMW's on the used market near me. Some cars had a pretty low manual transmission take rate, which carries over to the used market. I really did consider C4 Corvettes, since there were clean manual ones I could afford. What turned me off of them tended to be the complexity of them compared to simpler alternatives (I wanted to be able to do as much work on them as possible by myself).
Common & aftermarket support
Being common and having a community and aftermarket was another consideration. The Accord I had didn't have much of an aftermarket. That really limited what I could easily and cheaply do with the car. It was common and had a community which I really appreciated. An example of a vehicle that this ruled out was the BMW Z3/Z4 (they aren't as common, and don't have a huge aftermarket). This also generally ruled out most older vehicles just due to parts availability. For example, an early RX-7 would be cool and would be cheap to buy, but may be tricky to keep running or restore.
There were also some cars that would sort of fit the requirements, but were too expensive for clean examples. Things like the BRZ/FRS/86, 370Z, C5 Corvette, or S2000. I wanted something I could drive as much as I wanted and have real fun with, not a super bad example of a car to restore.
Final candidates
So after ruling out most of the used cool cars out there I didn't have too many options. My two final contenders were the Mazda Miata (NA, NB, NC), and the Nissan 350Z. I was pretty split on which I wanted more, but ended up deciding on the Miata for several reasons.
Generally the Miatas seemed to be cheaper and more plentiful than the 350Z's, and generally in better shape overall.
The simplicity of an I4 engine compared to a V6 appealed to me. Less parts, easier to work on, more room. I want to do as much work as possible by myself.
One of the advantages of the 350Z on paper is that it makes more power, and has a better power to weight ratio. However it is sort of in this weird middle ground between something like a Miata and a C5 (or newer) Corvette. I just didn't see the power as a big advantage when realistically you're probably going to get used to the higher power level and still want more. Plus the higher power is just going to get you into more trouble faster on the street.
I found the smaller size of the Miata to be slightly more practical for me (in terms of having limited garage space).
I generally liked the design of the Miatas more than the look of the 350Z, especially the interior.
So I decided I was going to get a Mazda Miata.
Purchasing an NB Miata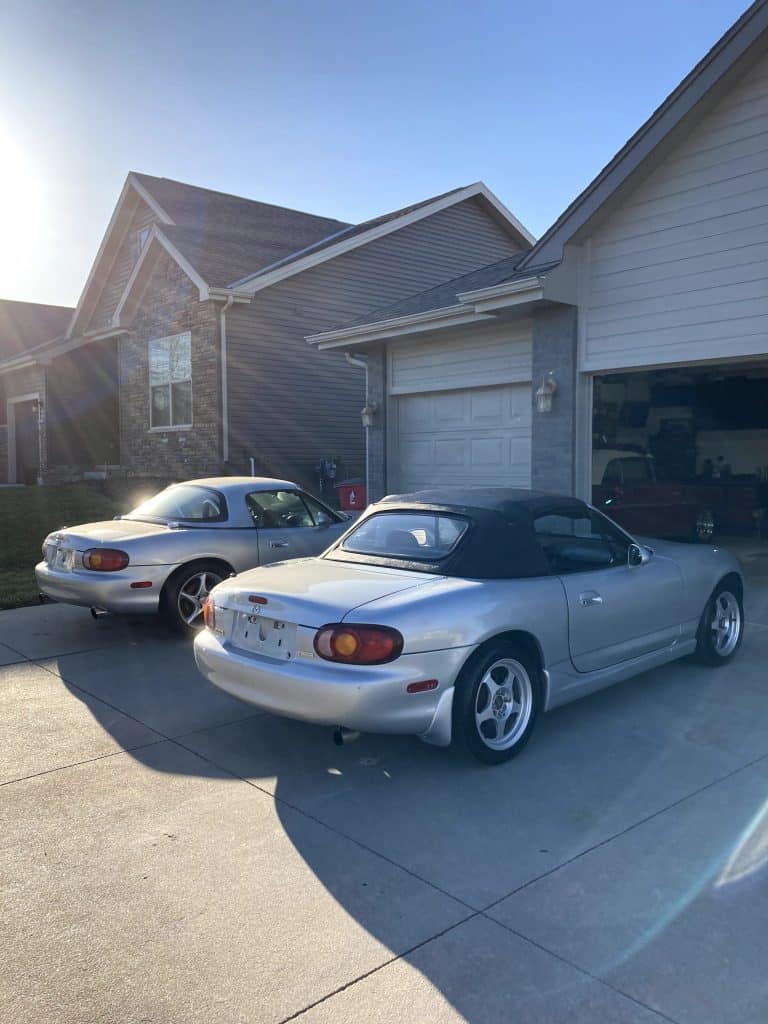 After deciding that I wanted to get a Mazda Miata as my next project car I began seriously searching for one. I didn't really care about which generation I got (NA, NB, and early NC's were all within by budget). For the most part I was planning on just buying the first one I could find that fit my requirements nearby:
Decently priced (~$5,000)
Clean (not rusty, physically decent shape inside and out, running and driving fine, no obvious problems)
Reasonably low miles (100,000 give or take)
I was also open to buying a car farther away and finding a way to transport it. If I were to do that I wanted the car to be super clean.
At the time I was searching for my car there really weren't that many examples going up for sale. The good ones that were priced well sold quickly, and even the rougher examples that were priced well went quickly. Some cars seemed fine, but the owners seemed somewhat sketchy when I was messaging them, or the ownership history or titles didn't check out.
How I found my Miata
After a while of searching and not having any luck I posted in the local Miata owner's Facebook group asking if anybody had one they were interested in selling.
I ended up talking to a guy who recently ended up with two NB Miatas and was planning on listing one of them for sale. He ended up with two because he bought one (my car now) and then a week later managed to get an even better one for a similar price (it was actually a car I was trying to buy, a 2-owner low mileage 1999 NB with an LSD, ~80,000 miles, and a hardtop, for around $4000).
The car he was selling seemed like a good car. It had a lot of previous owners, 6 to be exact. Most of the previous owners didn't drive the car a whole lot considering it had 79,721 miles in 2008, 102,596 miles in 2013, and only 116,604 by the time I purchased it. The pictures and videos he provided of the car convinced me that it was worth purchasing if it checked out in person, which it did.
The original condition
When I purchased my Miata it was in a pretty good condition. It was all original, no accidents, pretty much stock (just a cheap "cold" air intake and a poorly installed aftermarket sound system), and on the low end of average mileage for the age. I wanted something in good shape that ran and drove, not a major project or anything. However no used car is perfect, so there were some things that needed fixed to make it as close to perfect as possible.
Here are some of the problems with the car at the time of purchase:
The front passenger side fender was crushed in at the front. My best guess is that it must have been a garage sort of accident since there was no other damage other than that part of the fender, and no paint transfer or anything.
A large scratch across the driver's door. It's almost like the car was keyed or something.
Weird paint condition across a lot of the upper rear part of the driver's side. It's almost liked a clear coat issue, or maybe parts of it were repainted. There isn't any body damage though.
There was a non-functional sound system installation. An aftermarket head unit, aftermarket speakers in the door, and a big amp in the trunk. It was all in there, but wired wrong.
Pretty beat up front lip.
A few paint chips on various parts of the car, most notably part of the trunk lid.
The driver's seat had a small rip.
There was some yellow paint across the driver's side wheel well and sideskirts. I'm guessing a previous owner drove over some wet road paint at one point.
Mostly unknown maintenance history.
Baselining my Miata
When getting a used car, especially one with no maintenance records like mine, it's always a good idea to go through the vehicle and do all of the preventative maintenance that may need done. This process is called baselining the car on forums. The idea is that you are taking a car with unknown maintenance and doing everything necessary to bring it to a known reliable state so that you can enjoy your new used car. This was one of my first goals after getting my Miata.
Preventative maintenance performed
Instead of going into detail on everything I did I'm just going to list it all out with some additional details where I think it makes sense. There are probably small things missing from this list.
Oil and oil filter change: I did this the day after I got the car and used Mobil1 5W30 full synthetic oil. I considered different weights, but 5W makes sense for the spring months. I also considered high mileage oil, but would prefer to replace worn seals rather than hope that high mileage oil messes with them in the right way.
Differential fluid change: Mobil1 75W90
Transmission fluid change: Redline MT-90 75W90
Coolant flush: I used standard cheap premixed Peak 50/50 Antifreeze + Coolant. I liked how easy the Miata cooling system was to bleed with the radiator cap being the highest point in the cooling system.
Power steering fluid change: Automatic transmission fluid
Water pump
Timing belt
Front main seal
Cam seals
Accessory belts
Thermostat
Valve cover gasket
Spark plugs
Spark plug wires
Coil pack: This was surprisingly annoying to remove since it's right up against the firewall. I found unplugging the connectors with a pick before unbolting it worked the best. I wasn't able to get the connectors unplugged with the bolts out.
All coolant lines and spring clamps (still need to do the ones going to the oil cooler though)
All vacuum lines (assuming there aren't any hidden ones I missed)
Brake rotors, pads, hoses, and bleeder bolts: I just went with some standard cheap OE type replacements that have been working well enough for my use of the car so far.
Brake fluid flush: DOT 4 fluid
Clutch master & slave cylinder with stainless replacement line and new DOT 4 fluid
Fuel pump, fuel filter, and fuel tank cap
O2 sensors
Air filter
How hard is it to work on a Miata?
I did all of the work in groups over the course of a month or so. For example I did all of the fluid changes over one weekend, and then did all of the timing belt and related work another weekend. Everything was all fairly straightforward and easy to do, and nothing took that long to do. Obviously the timing belt and related parts took the longest to do (a little over a full day of work), but a lot of that came down to doing a lot of other things while I was in there like all of the coolant lines.
Conclusion
In March I really wanted a new fun car that I could spend the summer modifying and enjoying. There were a lot of different types of cars that fit my budget, but I ended up getting an NB Miata. It wasn't a perfect car, but it was clean, and had reasonably low miles.
After catching up on preventative maintenance I had a cheap reliable sports car that was ready for anything. I had a ton of fun with my Miata over the summer and will be publishing some more posts in the near future covering my experiences.