I've been writing a lot of posts about my NB Miata. This is a less content heavy and more photo heavy post about my first twelve months of owning my NB Miata. I purchased it in late March 2021, so that's where this post starts. A single photo is included for each month of ownership, along with a short description.
March 2021: Getting my NB Miata
I purchased my 2000 Mazda Miata on March 19, 2021. Below is the first photo I took of my NB Miata after bringing it home. From the moment I first sat in and drove the Miata I knew it was something special. They may not be fast (at least in a straight line with a stock engine), but they are very fun and can be modified to do pretty much anything. I think a lot of it comes down to the size and weight of the car, a small and lightweight platform is a really good starting point. My NB is also old enough that you still have a lot of the rawness you don't see in modern cars, but without some of the downsides of really old cars.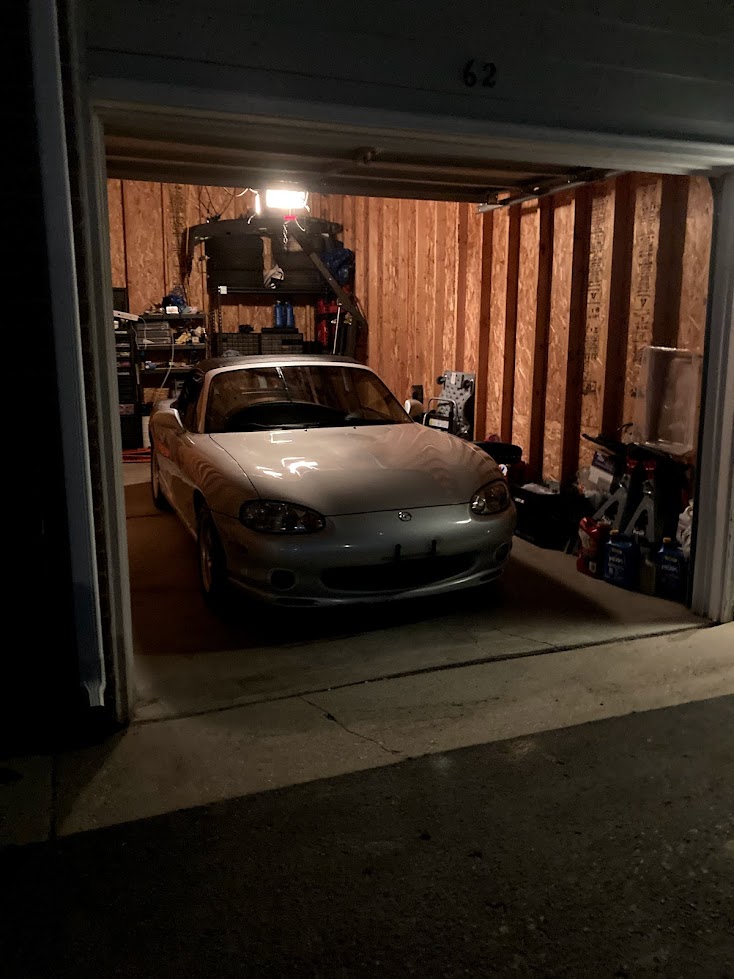 April 2021: Maintenance
My Miata had no maintenance history. The BP4W isn't an interference motor, so if the timing belt snapped while driving the motor would probably still be fine, but I still wanted to avoid being stuck on the side of the road. I did a lot of baseline maintenance very shortly after purchasing the car. My goal was to be in a known good reliable state before going out and doing track days or autocross.
May 2021: Miata car meet
What's better than one Miata? Many Miatas. I went to my first Miata car meet in May and got to see a lot of other local Miatas and their owners. There was a very nice variety of cars. At least one car from each Miata generation. Some pretty stock cars, some turbocharged, some supercharged, and even a V8 Exocet.
June 2021: Exhaust installation
In June I had some lingering catalytic converter related codes, rusty exhaust bolts, and a desire for a little more noise out of my engine. I ended up removing the entire exhaust system from my Miata and installed some upgraded aftermarket parts. The combination of a Raceland header, Cobalt midpipe, and a Racing Beat Power Pulse muffler resulted in a pretty good (not too loud, not to quiet) sound. Unfortunately I ended up just causing more engine codes after not reconnecting the EGR pipe.
July 2021: My last days in silver
I wrapped my Miata yellow in July, but I liked one of the last pictures I took while it was still silver. At this time I had replaced that front fender with a dent with a rattle can painted replacement. Not a perfect match, but a nice smooth surface to wrap.
August 2021: Yellow Miata
By the end of July my Miata was fully wrapped in yellow, so August was my first full month with the new color. The silver isn't a bad color, but the yellow really suits the Miata well.
September 2021: Track day
In September I attended my first track day at Raceway Park of the Midlands. It was a ton of fun and really helped guide my plans for what I want to do with the car. I see many track days in my future, and the Miata is a perfect car for that.
October 2021: Autocross
Another fun thing you can do with Miatas is autocross them. I attended my first autocross in September, and my second one in October, the picture below was taken at my second autocross event. Autocross is a lot of fun and is a lot cheaper (and closer) than track days.
November 2021: Getting ready for winter
Cold weather isn't an issue for the Miata, especially with a hardtop, but salted roads after it snows is something I'm avoiding. I don't want my Miata rusting, and NB Miatas are even more prone to rusting than NA Miatas. Snow in Nebraska regularly comes as early as late October, and as late as early December. This year we didn't get snow until December so I drove my Miata through November before putting it away for the winter. This is one of the last photos I took before putting my Miata away for the winter. The hardtop really changes the look and feel of the car.
December 2021: Where's winter?
There was a small amount of snow in early December that melted pretty much immediately, and there was some rain that ended up washing away most of the salt. I spent most of December going through the suspension installing some upgrades and replacement parts. After having everything back together I was able to drive around a little bit during the last week of the year (which also happened to be unusually warm). The photo below was taken at the DMV after getting my M1ATA vanity plates in late December.
January 2022: Engine out work
New years was cold and snowy, so I spent most of January doing some engine related work on my Miata that was easiest with the engine out of the car. My rear main seal was leaking, my oil drain plug was stripped, and I wanted to install a coolant reroute. There were also a couple of coolant hoses under the intake manifold that are hard to get to with the engine in the car. I was able to drive around a bit during the last weekend in January since the roads were clear and it hadn't snowed much since the beginning of the month.
February 2022: Getting ready for spring
It didn't snow at all in February, so I was able to spend a good amount of time driving my Miata. I also spent time doing some final touches before the track days/autocross season started back up in the spring. Safety gear was one priority. I installed some Track Dog Racing UltraShield Rally Sport seats, 6 point harnesses, a securely mounted fire extinguisher, and got myself a HANS device. I'm still not quite as low as I'd like, but I am just slightly below the broomstick test line with a helmet on. Another project was to get my car properly aligned. I was originally going to try to get a tire shop to do a custom alignment, but ended up doing a DIY alignment instead. My DIY alignment certainly isn't perfect, but it drives well, and I can always continue to tweak it.
Conclusion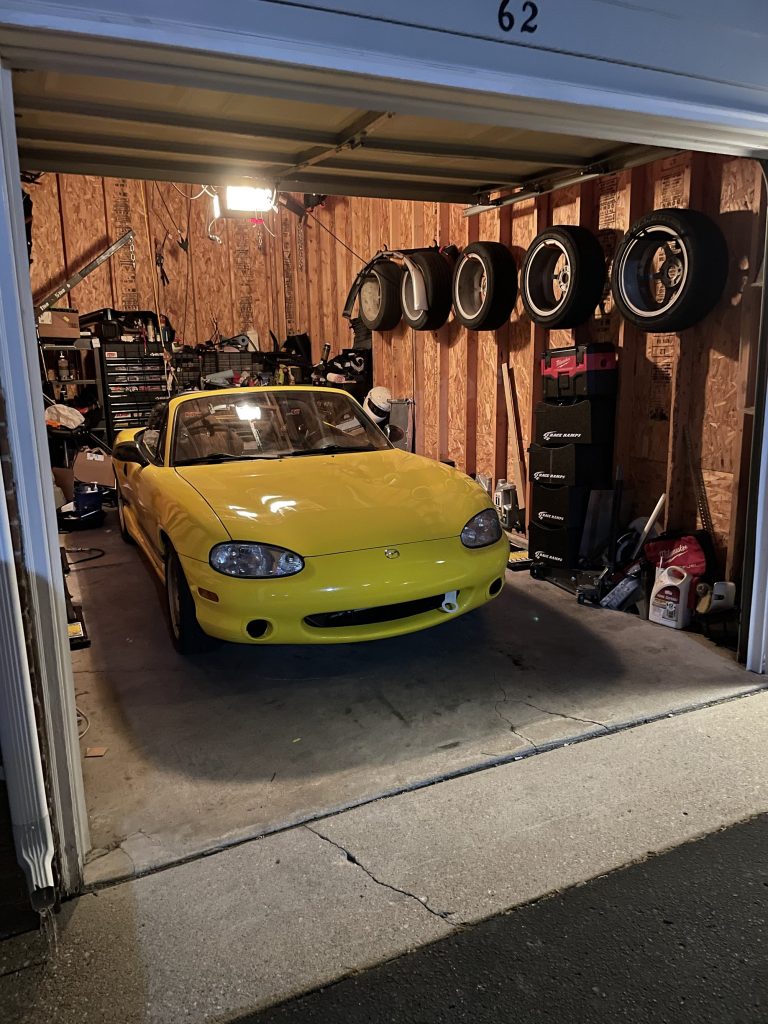 It has now been a year since I purchased my NB Miata. Over the past year I had a lot of fun having new experiences with my Miata. I look forward to the next year with the car, and the years beyond that. Keep an eye out for new posts about my NB Miata project.