.Towards the end of the PlayStation 1's life Sony released a slim model called the PSone, or SCPH-10x. Many of these systems have PM-41 boards inside, which is what this page covers. Some of the boards are PM-41 (2) and require you to use a different diagram. The model is printed on your board if you take apart your console.
I sell PsNee modchips in my store.
For more information about PsNee chips click here, for more information about PS1 modchips click here.
PM-41 PsNee modchip installation diagram
Arduino pinout:
Pin VCC - VCC
Pin GND - GND
Pin 3 - Debug TX
Pin 4 - BIOS A18
Pin 5 - BIOS D2
Pin 6 - SQCK
Pin 7 - SUBQ
Pin 8 - DATA
Pin 9 - GATE_WFCK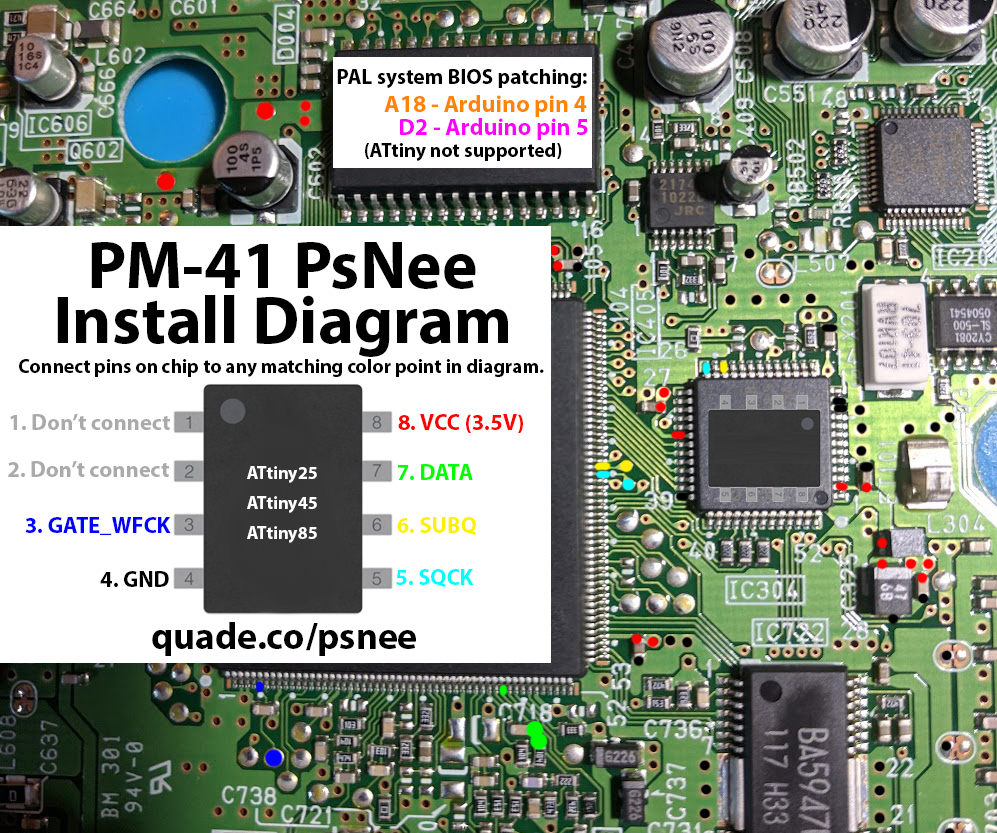 Above is the installation diagram. Just match each colored pin label in the diagram with any matching colored point on the board. There is a second image of the chip in the diagram showing a good place to position the chip.
If you have a PAL PSone system then you'll need to use an Arduino board and connect A18 and D2. Otherwise just ignore A18 and D2.
Installation tips
Here are some tips I have for you when you are soldering your chip into the PM-41.
Cut your wires to be as short and direct as possible.
You don't need to connect pins one and two of the ATtinyX5 chip. Just desolder the wire.
If you are using an ATtinyX5, or have a SCPH-101, then ignore pins A18 and D2.
Use a multimeter to probe around for alternative VCC and GND points closer to where you position your chip for a cleaner installation.
For the wires that go into the holes, or vias, of the board: it's easiest to stick a small 30 AWG wire through the hole, then heat the wire and hole while adding solder.
For DATA, be careful not to bridge solder to a nearby component, or knock the capacitor off the board.
Example installations
This section has photos of some successful installations which you can use to get a better understanding of how everything is wired and positioned.