One of the last revisions of the fat PlayStation 2 was the V9. They were found in many of the SCPH-5000x models. They feature a quieter fan when compared to earlier models, and require some form of a laser fix. Matching console model numbers and board numbers are listed below.
I sell Modbo 5.0 modchips in my store.
You can find the model number on the sticker on the bottom of the console, and the board number is printed on the PS2 main board if you take apart your console. Note that there can be multiple board numbers within a specific model number.
NTSC-J (Japan):

SCPH-50000 (GH-023)
SCPH-50005 (GH-023)
SCPH-50006 (GH-023)
SCPH-50007 (GH-023)
SCPH-55000 (GH-023)

NTSC-U/C (USA)
PAL

SCPH-50002 (GH-023)
SCPH-50003 (GH-023)
SCPH-50004 (GH-023)
Note that there are multiple versions of the Modbo modchips available, but the installation diagrams are all the same. Some example versions are Modbo 3.0, Modbo 4.0, Modbo 5.0, and Modbo 750.
For more information about Modbo modchips click here, for more information about PS2 modchips in general click here.
V9 Modbo installation diagram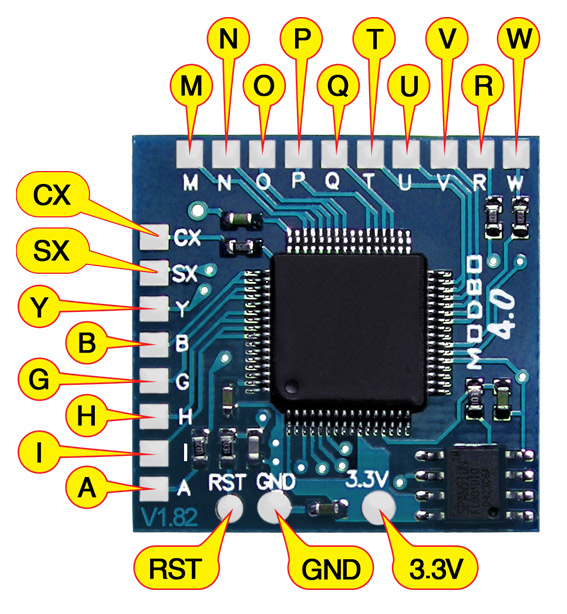 V9 laser fix diagram
There was a defect in the design of the V9 console that can cause the laser to burn out when playing back games once a modchip has been installed. There was a fix for this problem called the Romeo laser fix.
This fix involves lifting a pin on a chip, and then connecting that pin to a 5V point on the board.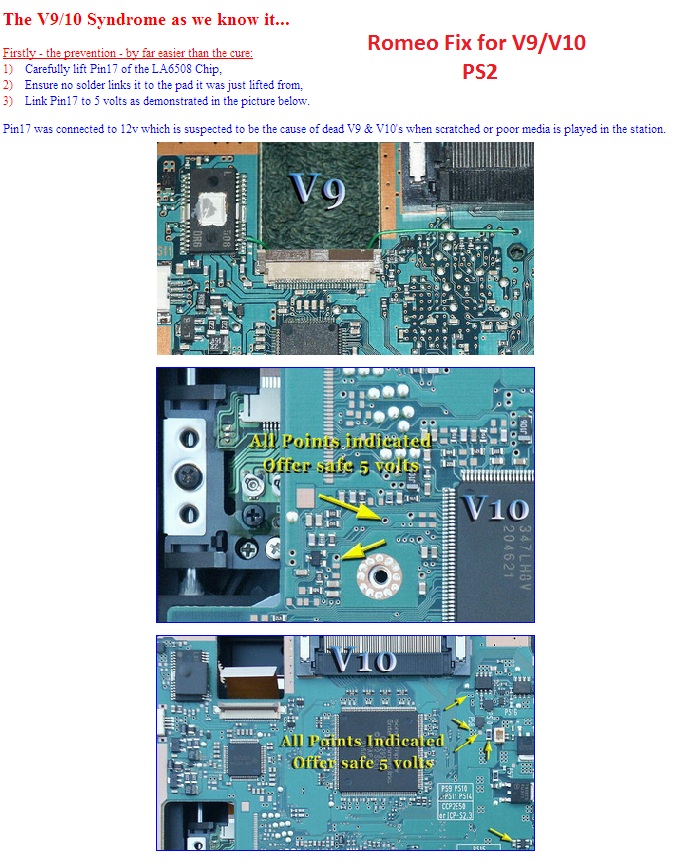 Installation tips
Here are some tips I have for you when you are soldering your chip into a V9.
Using 30 AWG solid core wire works well for most of the points.
Use some thicker wire for the 5V and ground wires.
Use even thinner wire for the B, G, I, and A points. 36 AWG enamel coated wire works well.
Example installations
This section has photos of some successful installations which you can use to get a better understanding of how everything is wired and positioned. Leave a comment and I'll add your installation to the list
William Quade (me)